PSD to PNG
Convert online and free PSD to PNG
Uploaded filetype:
Choose filetype:
Advert:
P hoto S hop D ocuments or short psd files are commonly used in professional image editing, such as photographers. According to a study, 90% of all professional designers use Photoshop in their companies. The word "photoshopping" has already become synonymous with image editing in professional circles. The great advantage of files in psd format: The graphic designer or web designer can use so-called "layers" and thus correct and edit images in a variety of ways. For example, he could set up a black and white filter as a layer and then use the image in color or black and white by switching this layer on and off. No image information is lost in the process. He could also create a layer with a company logo and then show or hide this logo on any photo. However, the enormous advantages of the psd format are offset by two major disadvantages: the files
cannot be read without special software
With png format (English: Portable Network Graphics) the situation is practically reversed: it requires little memory and compresses images with practically no loss of quality. For example, it is ideal for the Internet because the loading times of photos are short. However, post-processing is only possible to a very limited extent. Another plus: the png format is not protected by patents. This means that anyone can publish programs that can read and write png files without paying royalties. For Adobe Photoshop owners, there are easy ways to convert psd files to png format. However, the software is relatively expensive and must be installed on the respective computer. Freeware programs like GIMP are a possible solution, but occasionally have compatibility problems with psd files and are not easy to use without prior knowledge.
Instructions: Convert PSD to PNG online
File-converter-online.com offers a much simpler solution, because here you can convert psd to png online. Simply click on "Choose file", search for the desired psd file on your computer and select png as the target format. With a click on "Start conversion" you are already there and can download your converted file after a short time.
Guide: Convert PSD to PNG online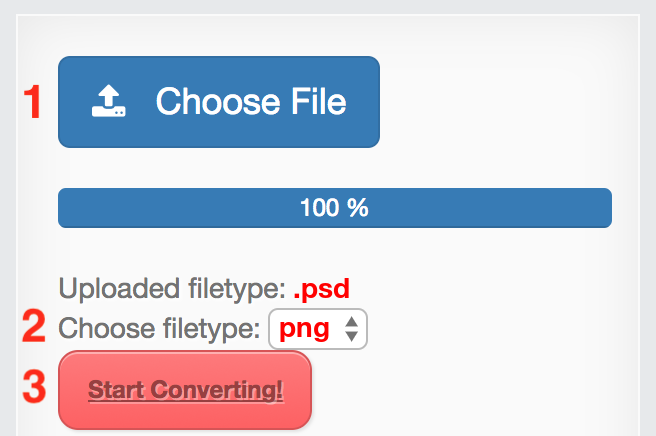 Choose input PSD file
Check target filetype and change if required (PNG)
Hit the "Start Converting!" Button
That's it! Your download will start automatically on the following page
Currently we support the following conversions with PSD files:
All Converters
Information about the extensions for the conversion from PSD to PNG
From: PSD
The professional image editing software Photoshop stores files in the format PSD, Photoshop Document. These files allow the saving of all work steps and levels and thus provide a lossless access to the entire work on the document. As a matter of prin …
File extension:
.psd
More information and converters for PSD
To: PNG
One of the more popular graphical formats for web design, Portable Network Graphics (PNG) is a non-patent licensed image file format which supports lossless data compression. It was first released in 1996, and was developed as an enhanced version of …
File extension:
.png
More information and converters for PNG
Video-Tutorial: PSD to PNG
File-Converter-Online.com is a service for converting files online from one type to another. We take care of your privacy and take care of your files. As a part of this, there's no registration required on file-converter-online.com. As we're offering our service in a browser, it does'nt matter whether you use Windows, Apple OS X or Linux. Your conversion results will always be at the same, very high quality and of course, without watermarks.